Main Manufacturers of Cable Ties in the World
With the advantages of technology, capital and scale, the nylon band manufacturers in Europe, America and China occupied most of the market share in the middle and high-end nylon band. In Asia, South America and other countries and regions, the number of nylon tie bands is large, the scale is generally small, the production process and production technology are traditional, and the efficiency is low, mainly for low-end nylon band products. But in recent years, with the emerging market nylon belt production enterprises started by technological innovation, and constantly improve the level of research and development, and gradually cultivate the consumer market, and the developed countries nylon tape manufacturers gradually narrowing the gap, and gradually expand the market share.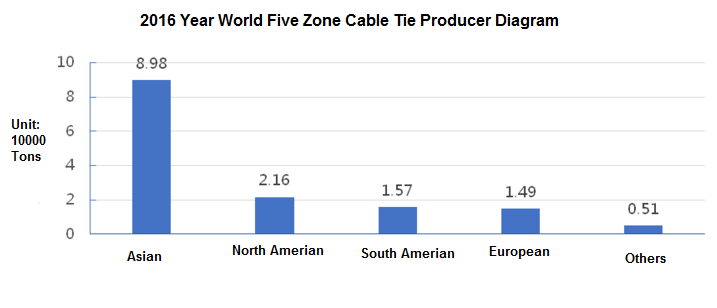 In recent years, affected by global economic fluctuations, North American, European and Japanese nylon market growth is slow, or even a decline trend, and the emerging markets in the mainland as the representative of the China is showing a strong growth momentum, has become the main power to promote global nylon with market growth. Incomplete statistics show that China's nylon band production reached 54 thousand and 800 tons in 2016, accounting for 61.02% of Asia's total output, making it the world's largest producer of nylon bands.